Dormitory Accommodation at UTLT

UTLT ~ The Mindful Place to B & Be!™
The 'WOW' factor! Indulge your sense of adventure in our dormitory style "Beds in the Barn" accommodation available from May to September. Funky, Frivolous, Friendly and Fantastic Fun!

The Beds in the Barn are set in a characterful old Charentaise Barn on the opposite side of the courtyard to the main house.
Accessed by 2 staircases, one spiral, this dormitory accommodation is made up of 8 single adult beds, 2 of which are a set of bunks. It is ideal for a family of four or more, or for friends celebrating a get-together, or a group undertaking a course or workshop. Double showers, wash basins and toilets are all at ground level.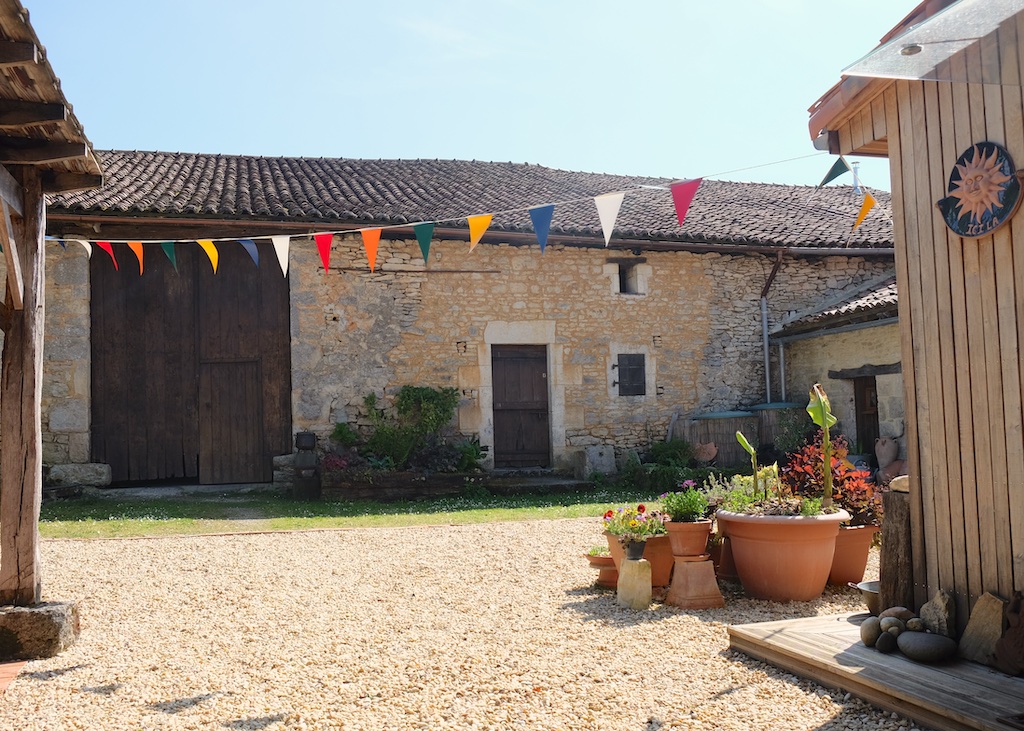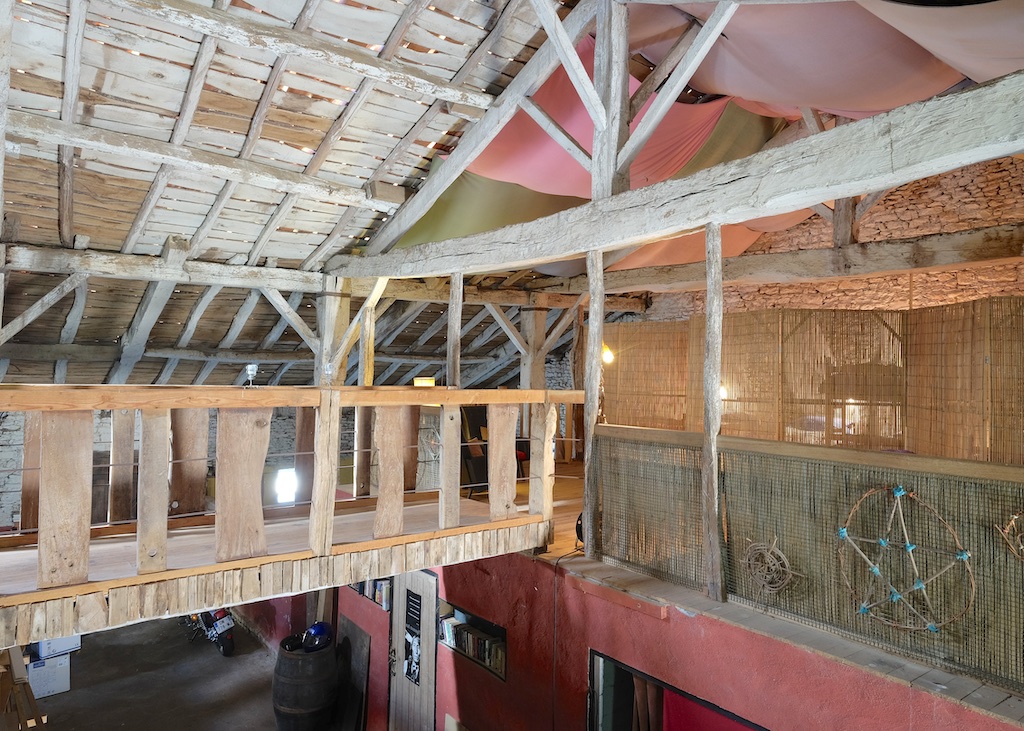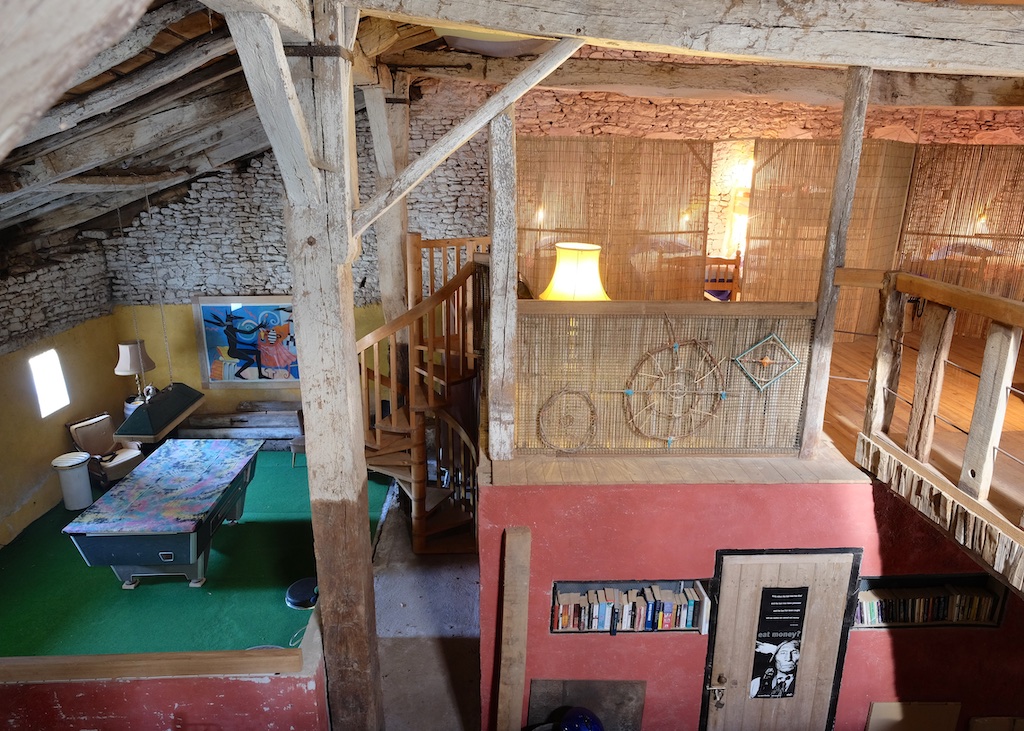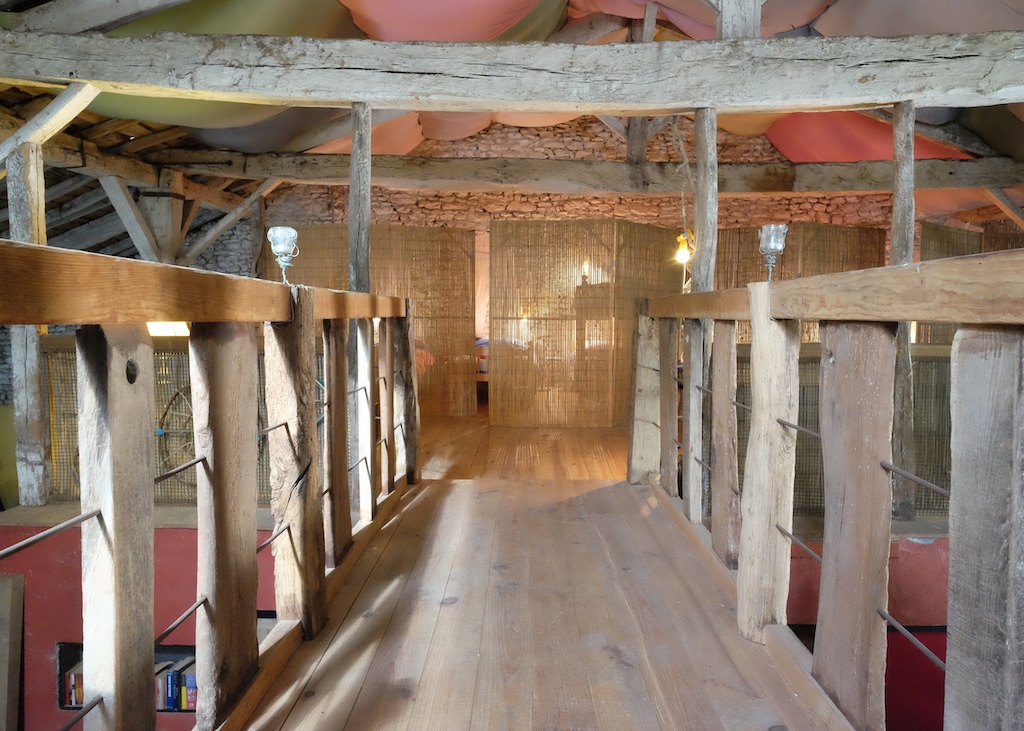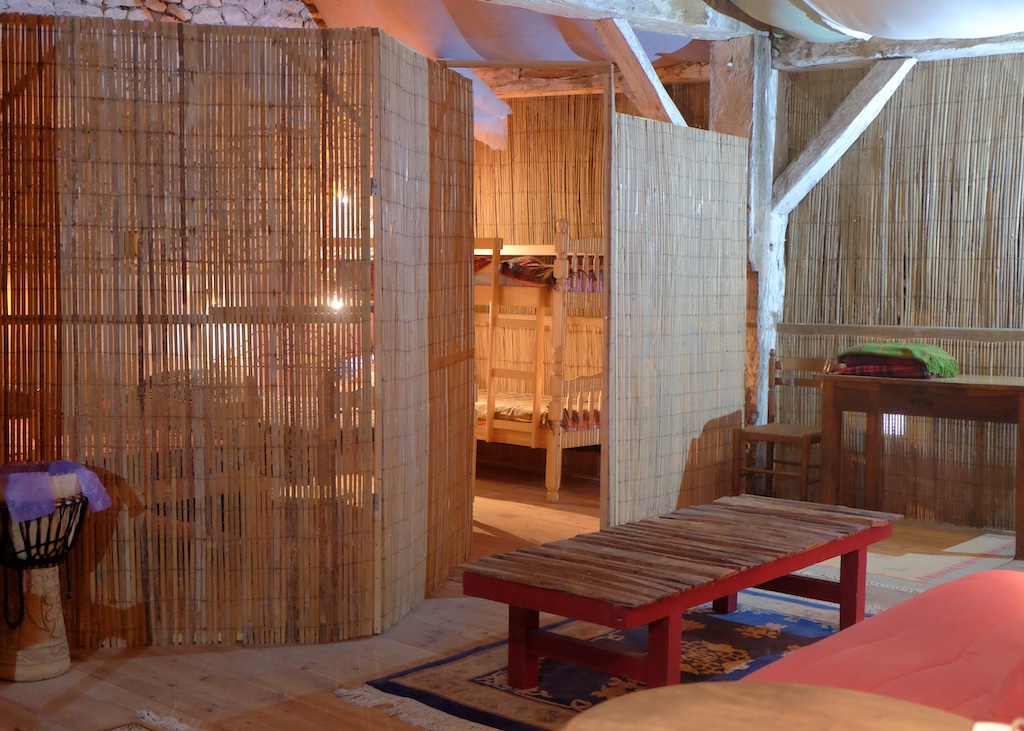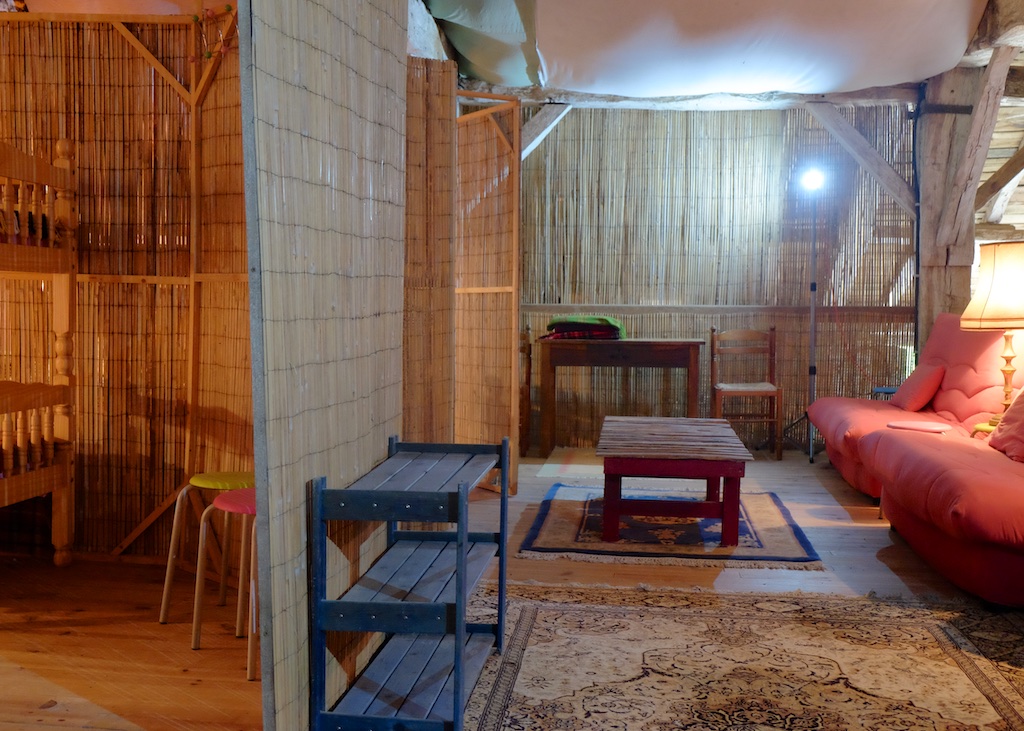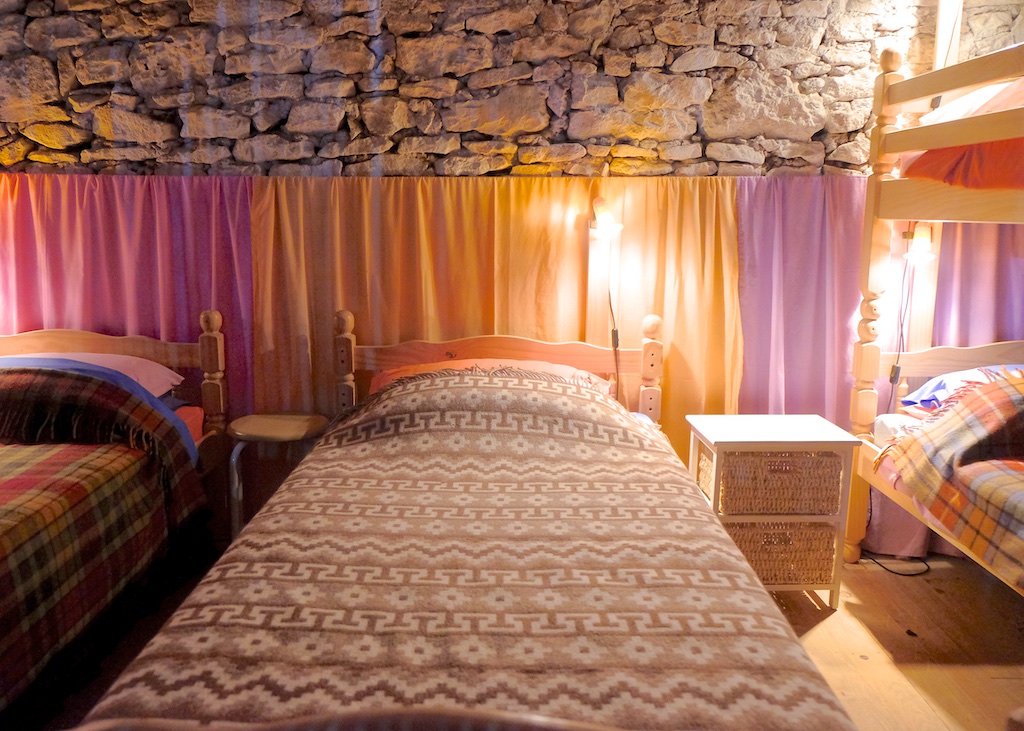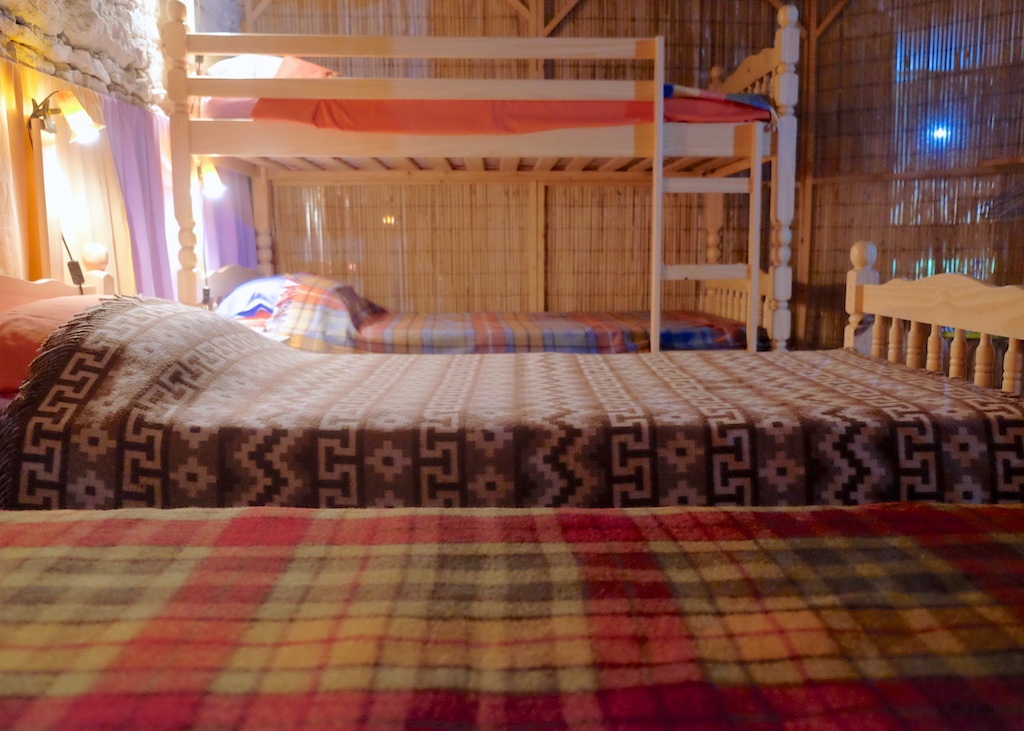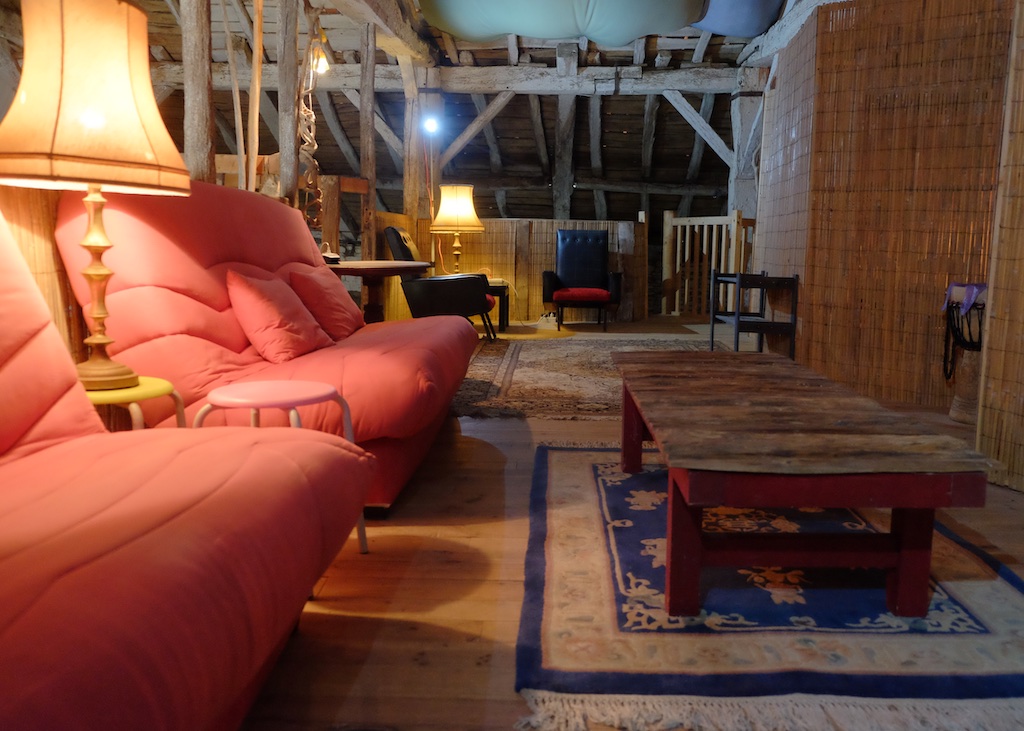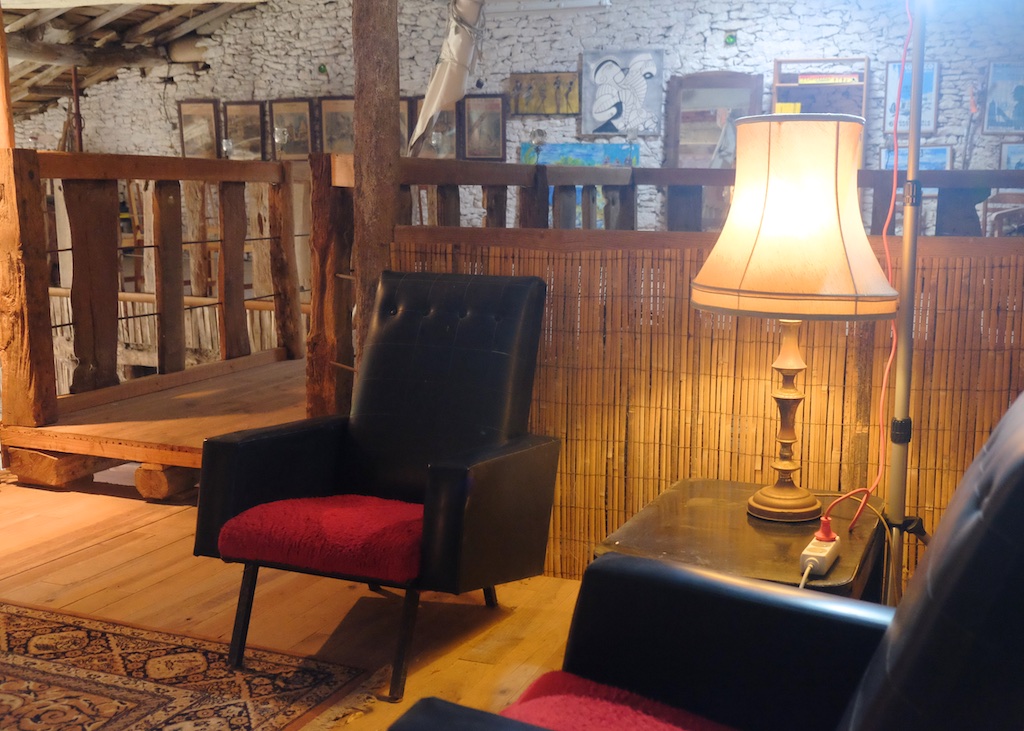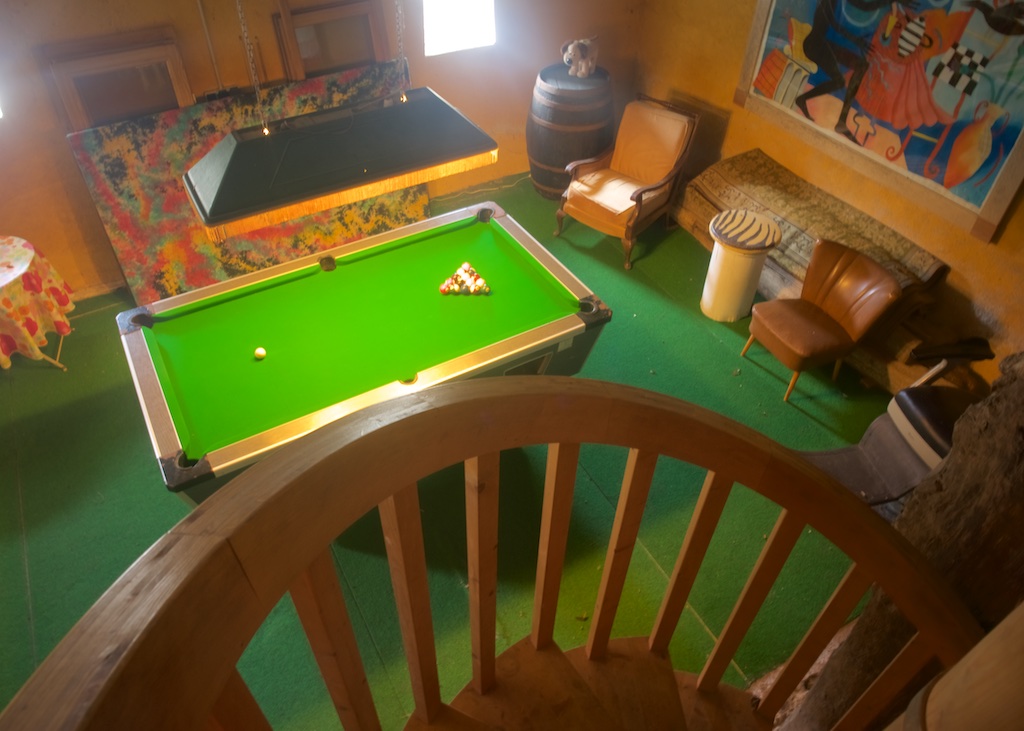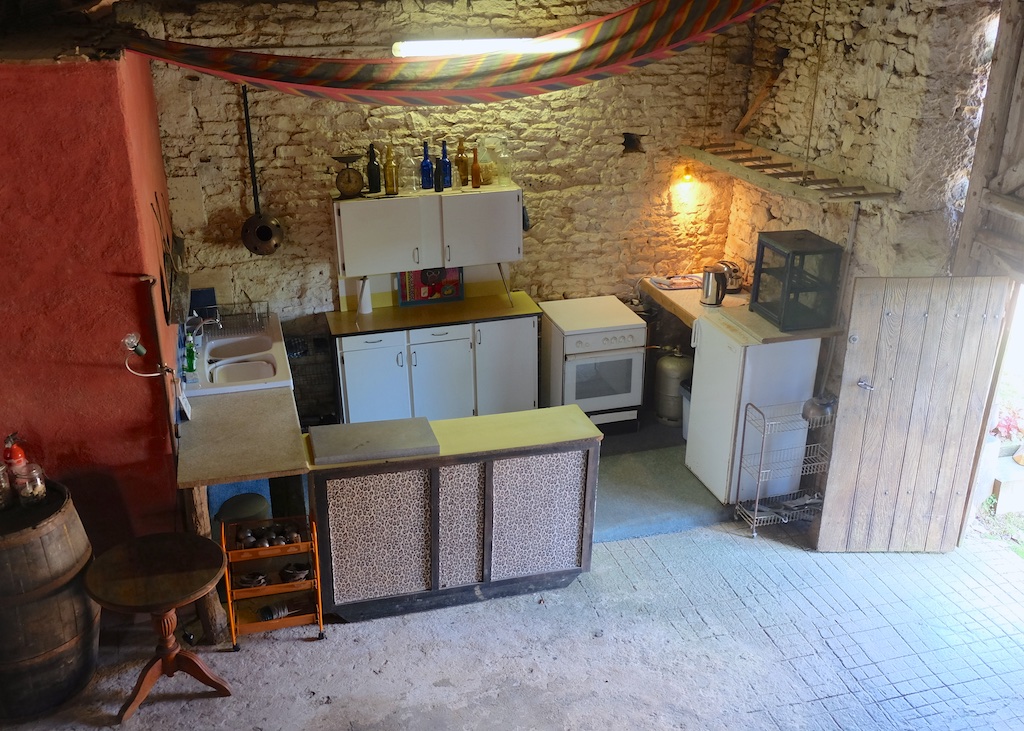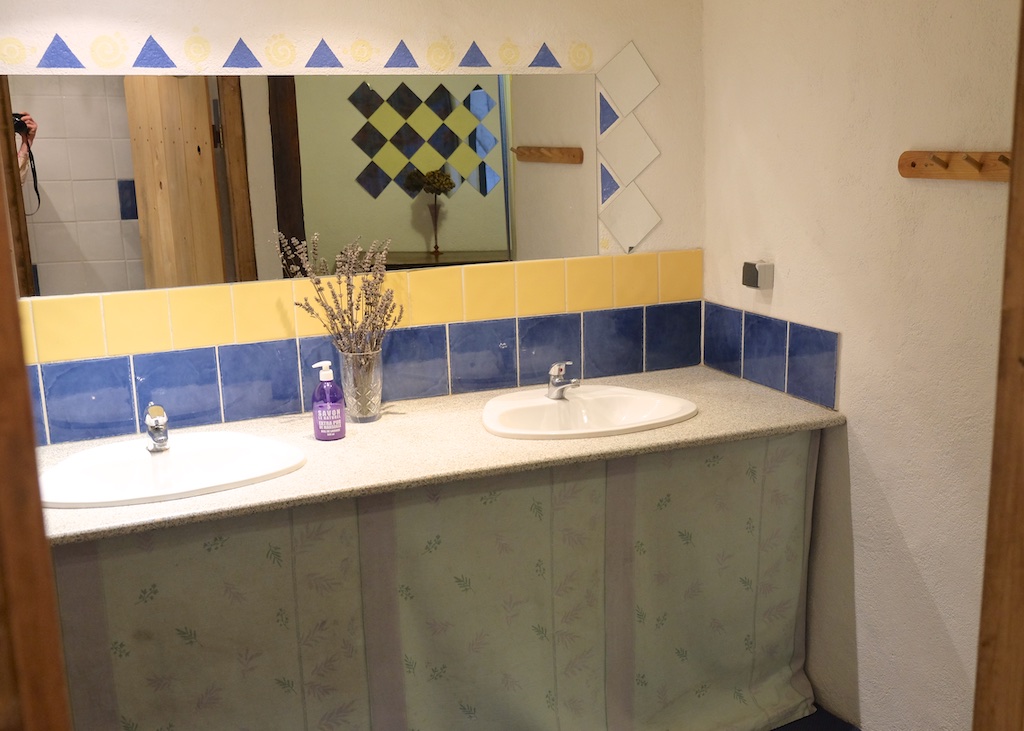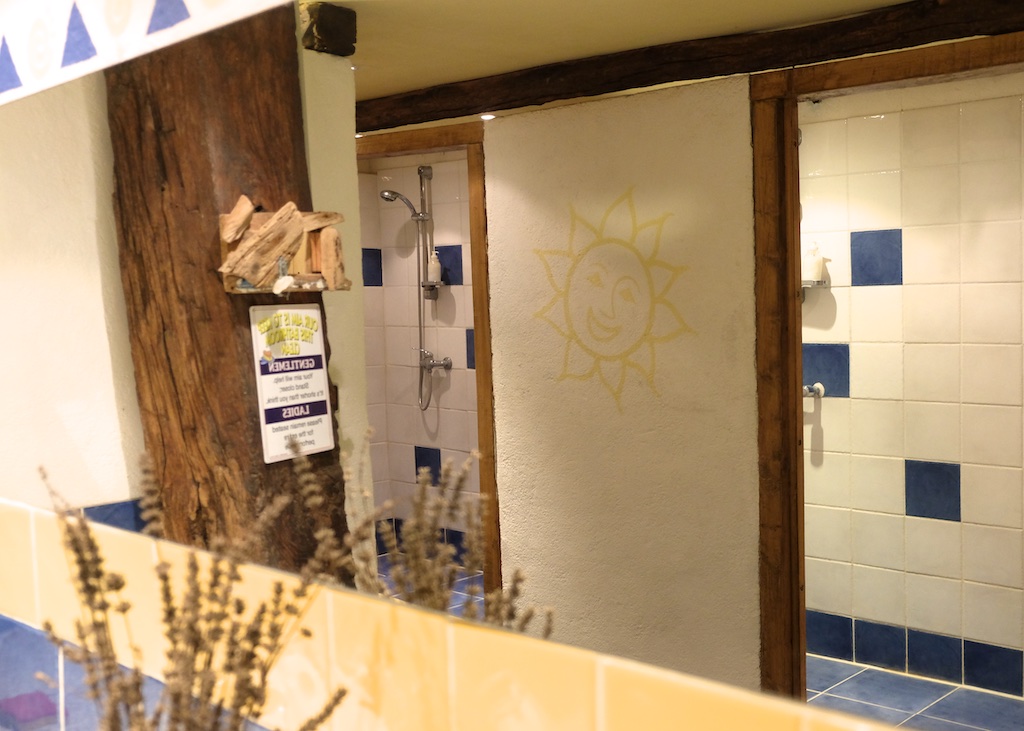 Click Here to return to main Accommodation Page.
The Beds in the Barn are a rough and ready rustic retreat in a wonderful 300 year old barn with a unique 'back-packer' meets 'tree-house' feel. Bamboo screens separate two sleeping areas, both with 4 beds in each. A family might be all together, or parents could stay on one side, while their teenage kids stay on the other, creating a sense of closeness and separation at the same time. It's not private, but discreet. Only people known to you or the group will be occupying this space. Associated seating areas on the mezzanine level are also exclusive to those staying in the beds. At this level, you'll have plenty of space to make your own during your stay.

At ground level, the kitchen, showers, wash basins, toilets and pool table are all available for shared use by other guests at UTLT. Note that 'other guests' might also include Pipistrelle bats and generations of Red-Start birds who have been happily nesting and hibernating in the eaves and hidden rooftop spaces for years - don't be put off though, they'll soon get used to you!

The Barn is a 400m2 building on two levels and simply too spacious to heat, so do bring plenty of layers to wrap up if the summer weather lets us down!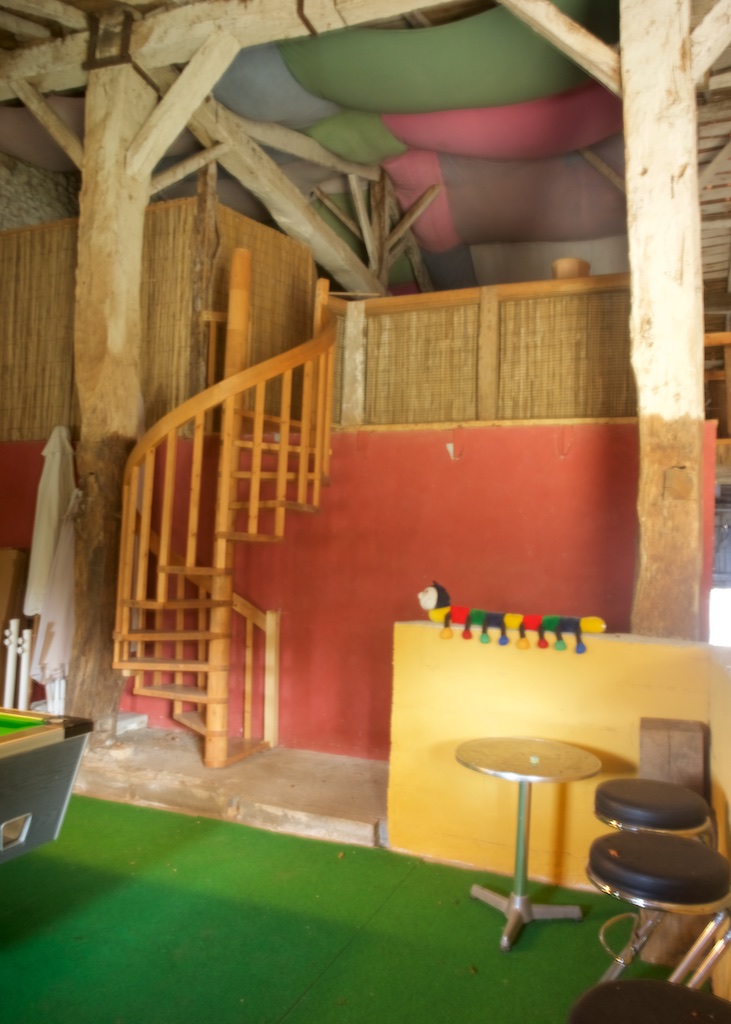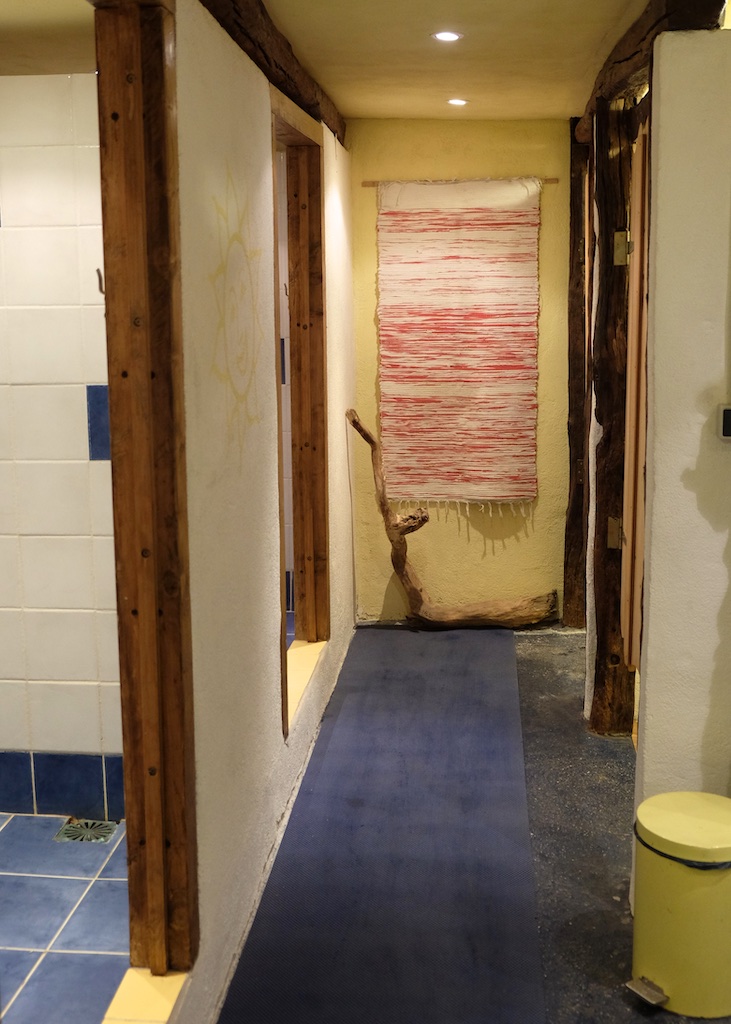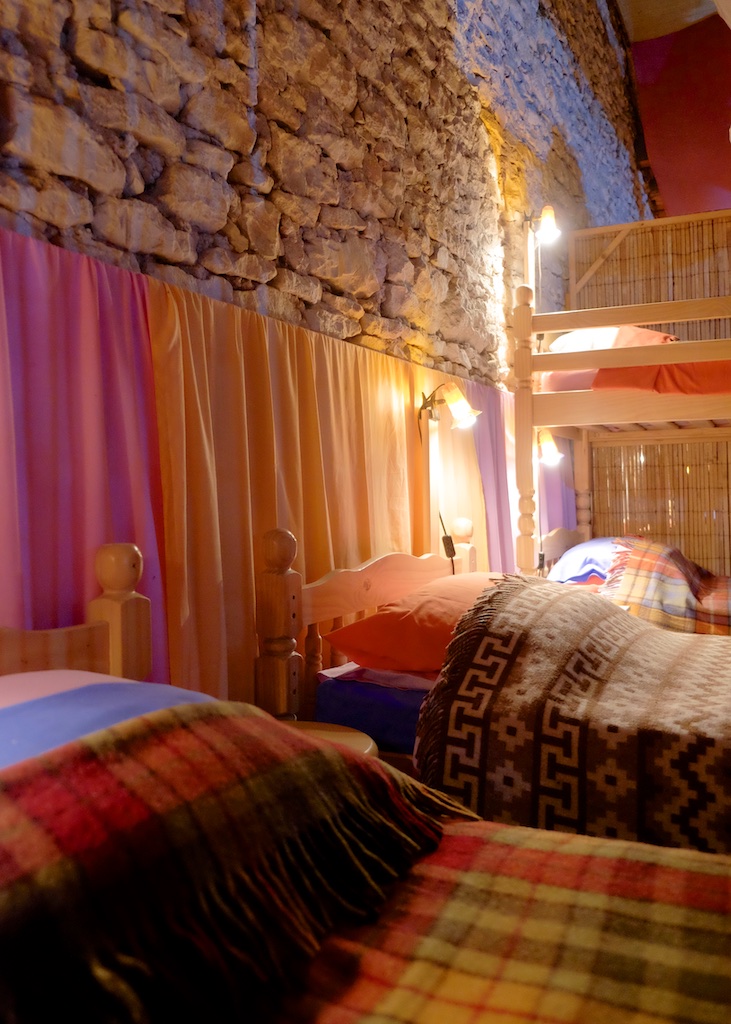 The kitchen is available for shared storage of food and drinks and there is also the possibility to self-cater if preferred. Please note that all catering and self-catering at UTLT is strictly vegetarian or vegan. A supplement of 5€ is applied daily for use of the gas cooker.




Testimonial:

"Thank you so much for your hospitality. We loved the good food, conversation and company. The Beds in the Barn and the whole dormitory experience for our family was truly inspirational and brimming over with creativity. We loved it!"

.....The Hay Family
Testimonial:

"During 50 years of marriage we've visited many guest-houses but never have we found such friendly hospitality. We feel privileged to have experienced the years of loving and creative work by Nikki and Sean. The setting is gorgeous but everywhere one looks is something unusual and interesting. Meals have been original and delicious and it's been a joy to share them with such interesting hosts. Merci bien, thank you!"

.....Dorothy & Keith
Testimonial:

"Lovely views, a hot stone massage that was both relaxing & rejuvenating, stimulating conversation, a wonderful friendly welcome, the best veggie food I've tasted and a guarantee that I will return. In a word ~ unmissable! "

.....Trish
See our Tariff Page for prices and packages.

Follow Us on Facebook and Instagram for our day-to-day news, events and all things bloggy!